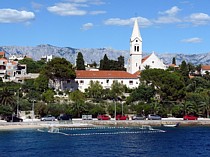 Sumartin, Brac island
Sumartin
is the youngest fishermen's- village on Brac. The ferry-port in Sumartin connects a part of the island with the land. It is worth to visit the Museum of the monastery of fra
Andrija Kacic - Miosic
which has very worthy paintings (among them especially the early baroque Last Supper/ Posljednja vecera from the second half of the 17th century).
The documents written in bosancica from the period of 1665 - 1755are also very valuable.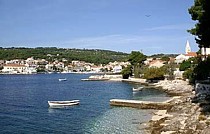 Chief occupations are farming, viniculture, olive growing, fishing and tourism. Situated on the regional road running along the island; ferry port and connection with Makarska. The village set in the vicinity of the big quarries, used the stone for the paving of lanes, for the dents (the nails) on the house walls, for the doorways and for the stone seats in the shade of the clumps of trees in the Sumartin yards.