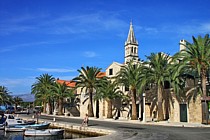 Splitska, Brac island
Splitska
is located 8 km east from
Supetar
. The settlement developed in the 16th century, after the foundation in the 13th century when the
pirates from Omis
destroyed it.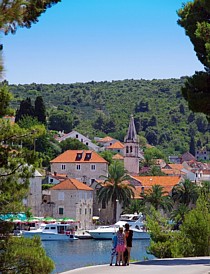 The church consecrated to the
Blessed Virgin Mary
in
Stomorna
was built on the foundations of an older church from 1228. The altar pale of the Virgin with Saints has painted Leadro Bassano, a renaissance painter from Venice in 1577.
The court of the family Cerinic was built in 1577. In the ancient time was in Splitska a port, from which the stone from the island Brac was transported for the construction of the Diocletian's palace in Split.
Today you can see near Splitska in the stone-quarry Rasohe a relief of Heracles, which probably has been made by slaves, who worked in the quarry.