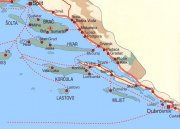 You can find here a list of ferries connecting Brac island with Dalmatian coast (towns Split and Makarska) and other islands. For more info about Brac travel see our section "how to reach Brac".
Note: the ferry timetables listed here are accurate for low season departures, at high season (jun - september), ferries departure more often.
The same goes for prices which are just for informational purposes, refer to official Jadrolinija website for more info (Info tel. 00385 21 338 333).
Local ferries for Brac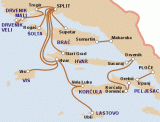 The length of crossing 50 minutes, this ferryboat takes cars.
Out of season departures : 9 times a day.
In season departures: 14 times a day.

Ferryboat timetable

Aproximate prices:
| | |
| --- | --- |
| Person | 6 € |
| Car not exceeding 2m of height and 5m of length | 25 € |
| Car exceeding 2m of height and 5m of length | 38 € |
| Van, caravan not exceeding 5m of length | 41 € |
| Van, caravan from 5m to 7m of length | 50 € |
| Van, caravan exceeding 7m of length | 64 € |
| Motorcycle | 17 € |
| Bike | 6 € |
Ferry Makarska - Sumartin
The length of crossing 60 minutes, this ferryboat takes cars
Out of season departures : 3 times a day.
In season departures: 4 - 5 times a day

Ferryboat timetable and prices

Aproximate prices:
| | |
| --- | --- |
| Person | 6 € |
| Car not exceeding 2m of height and 5m of length |  25 € |
| Car exceeding 2m of height and 5m of length |  39 € |
| Van, caravan not exceeding 5m of length |  41 € |
| Van, caravan from 5m to 7m of length |  50 € |
| Van, caravan exceeding 7m of length |  64 € |
| Motorcycle | 17 € |
| Bike | 6 € |
Cross-islands connections
Catamaran Jelsa (Hvar) - Bol - Split
Catamaran Split - Milna (Brac) - Hvar - Vis
Ferry terminals in Brac island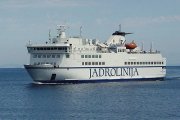 Supetar tel. +385 21 63 13 57,
Sumartin tel. +385 21 64 82 24, Split +385 21 338 305, 338 333
Dalmacijaturist (catamaran transport) Split +385 21 345 852, Split +385 21 338 333
Jadrolinija
The main Croatian ship passenger carrier keeps the majority of the regular, international and domestic ferry and shipping lines. The main office is in Rijeka (051/666-100).  Website